Embrace Network Management Solutions to Achieve Operational Efficiency
Optace Networks
Networks serve as the backbone of businesses – connecting people, applications, and devices – globally. And with network management solutions you get a robust operational efficiency of these networks. This is paramount to ensure seamless operations and deliver exceptional user experiences by streamlining operations, eliminating inefficiencies, and improving overall productivity. Achieving operational efficiency, therefore, is essential for businesses to remain competitive, deliver value to customers, and maintain profitability.
For Managed Services Providers, the key to operational efficiency is Network Management Solutions that offer insights, automation, and control to streamline operations and optimize network performance. These solutions encompass a range of tools, platforms, and technologies designed to monitor, analyze, configure, and optimize network devices and resources.
Choosing the Right Solution
Selecting the appropriate network management solution requires a strategic approach through careful consideration of various factors, including:
Integration

: Look for solutions that integrate seamlessly with existing technologies to ensure a cohesive network management ecosystem.

Scalability

: The solution should be capable of scaling to accommodate the organization's current and future network growth.

Ease of Use

: An intuitive user interface with user-friendly features simplifies the adoption process and shrinks the learning curve.

Customization

: The solution should also allow customization to align with specific organizational needs and workflows.

Security

: Strong security features are essential to safeguard sensitive network data and prevent unauthorized access.
What's available for you to choose?
With the increasingly changing digital landscape, increased use of IoT, and enterprise demands of network management, this is the right time to update or upgrade your network management solution.
At Optace Networks, we are keen to provide you with network infrastructure solutions that include network management features to help ISPs and MSPs achieve operational efficiency. (re)Discover some of the most popular ones by vendor:
cnMaestro

by Cambium Networks

 UniFi and UISP by Ubiquiti Networks

 

The Dude

by MikroTik

 Cisco DNA Center by Cisco
cnMaestro by Cambium Networks – Overview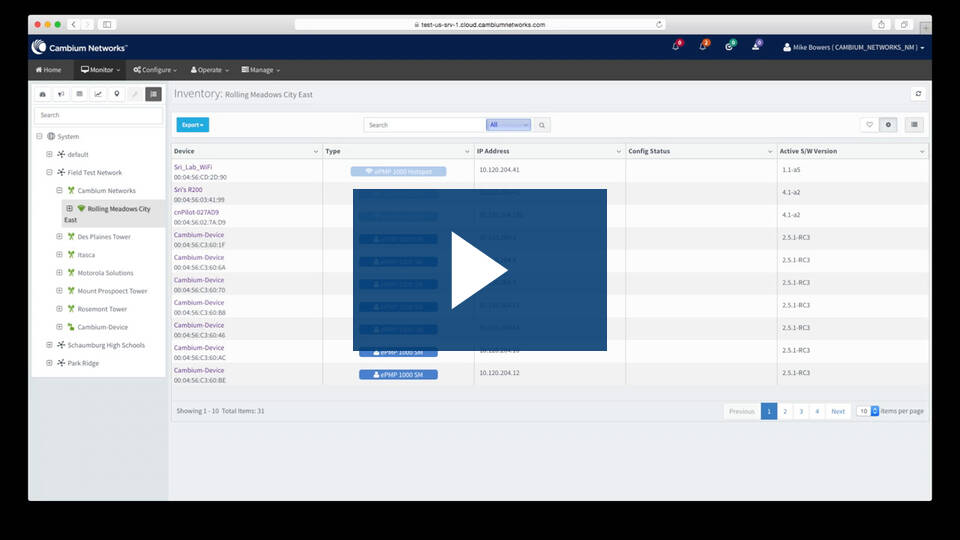 These network management solutions may be vendor-specific and limited to their respective ecosystems. But the overall goal is to offer a range of capabilities that empower organizations to enhance operational efficiency, improve user experiences, and adapt to the dynamic demands of the IoT landscape. By leveraging these solutions, businesses can optimize network performance, minimize downtime, and stay ahead of potential disruptions – ultimately driving their success.
Benefits of Network Management Solutions
Network management solutions play a vital role in enhancing operational efficiency by providing MSPs with the ability to achieve the following:
Proactively Monitor and Troubleshoot
Network management solutions offer real-time monitoring capabilities that provide deep insights into the health and performance of network devices, applications, and services. They detect anomalies, diagnose issues, and enable IT teams to address potential disruptions before they impact users proactively.
Gain Visibility and Central Control
Administrators gain a holistic view of their network infrastructure through a unified dashboard, regardless of its complexity. This centralized visibility simplifies network management, enabling administrators to make informed decisions and streamline tasks across distributed environments.
Efficiently Configure and Deploy
Network management solutions facilitate automated configuration management, ensuring consistent device settings. This saves time and reduces the risk of misconfigurations that could lead to downtime or security vulnerabilities.
Optimize Performance
By analyzing network traffic and performance metrics, these solutions identify bottlenecks and areas of improvement. Organizations can optimize bandwidth allocation, adjust routing, and fine-tune network settings for optimal performance.
Plan for Capacity and Scalability
With historical data and trend analysis, network management solutions aid in capacity planning. Organizations can forecast network growth, allocate resources appropriately, and avoid unexpected capacity limitations.
Enhance Security
 Many network management solutions offer security monitoring and threat detection capabilities. Administrators can identify suspicious activities, enforce security policies, and respond to potential threats promptly.
Automate and Streamline Workflows
Automation features enable routine tasks to be executed automatically, freeing IT personnel to focus on strategic initiatives. This results in increased operational efficiency and reduced human error.
How to Choose a Network Management Solution
The below infographic details the factors an enterprise should consider when choosing its network management solution: